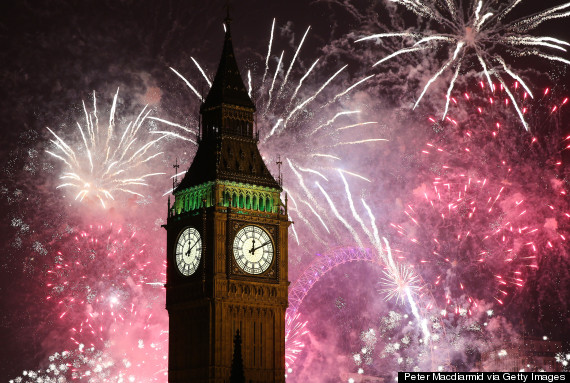 Fireworks light up the London skyline and Big Ben just after midnight on January 1, 2015 in London, England. (Photo: Peter Macdiarmid/Getty)
People and cities across the world celebrated the new year in different ways. Osaseye picks some of the best pictures from the celebrations.

Australians gathered along the Sydney Harbor where a fireworks display exploded off the bridge. New Zealand also had their own fireworks display at the top of the Sky Tower.

In Beijing, locals promoted the city's 2022 Winter Olympic bid at Olympic Park. The event included an appearance from their hockey team.

In Ecuador, dummies representing prominent politicians, sports personalities and artists were burned in a New Year's tradition, which means good luck.

Times Square traditional ball drop was watched by New Year's Eve revelers despite the frigid weather.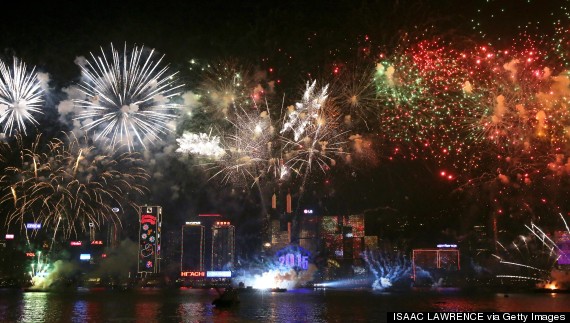 Fireworks explode over Victoria Harbor in Hong Kong on January 1, 2015. (Photo: Isaac Lawrence/AFP/Getty Images)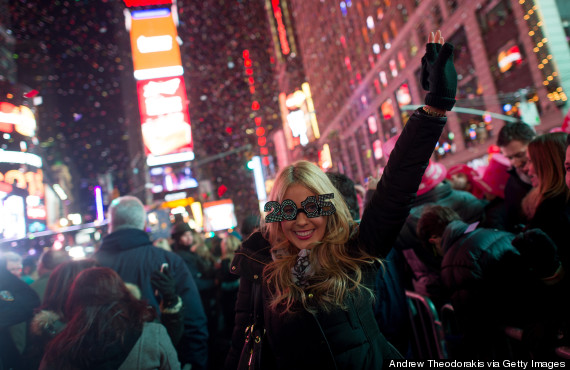 People cheer as the ball drops at midnight in Times Square on January 1, 2015 in New York City. An estimated one million people from around the world are expected to pack Times Square to ring in 2015. (Photo: Andrew Theodorakis/Getty Images)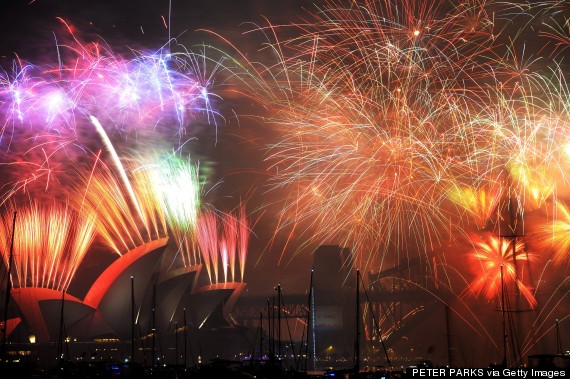 New Year's Eve fireworks erupt over Sydney's iconic Harbour Bridge and Opera House during the traditional fireworks show held at midnight on January 1, 2015. (Photo: PETER PARKS/AFP/Getty Images)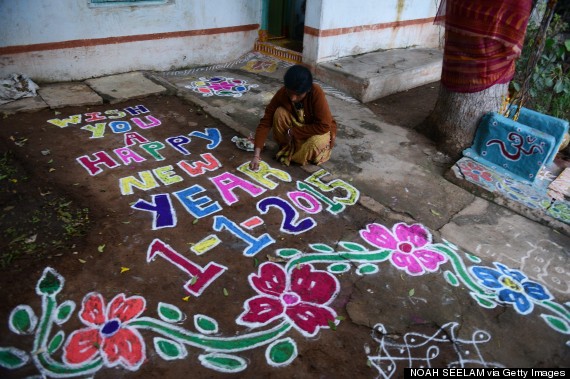 An Indian woman applies coloured powder to a 'rangolis', a Hindu ritual design, in front of her home in Hyderabad on January 1, 2015. (Photo: NOAH SEELAM/AFP/Getty Images)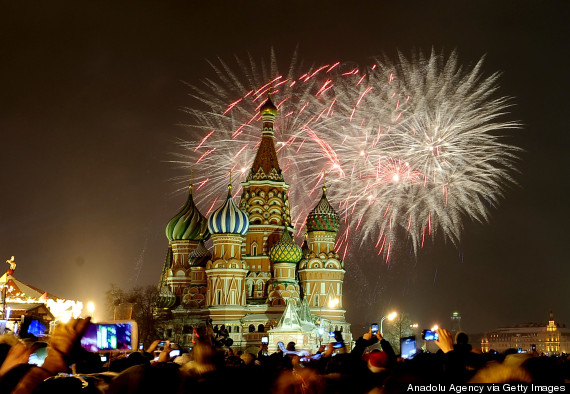 Fireworks light up the sky above the Saint Basil's Cathedral during the welcoming ceremony for the new year at the Red Square in Moscow, Russia on January 1, 2015. (Photo by Sefa Karacan/Anadolu Agency/Getty Images)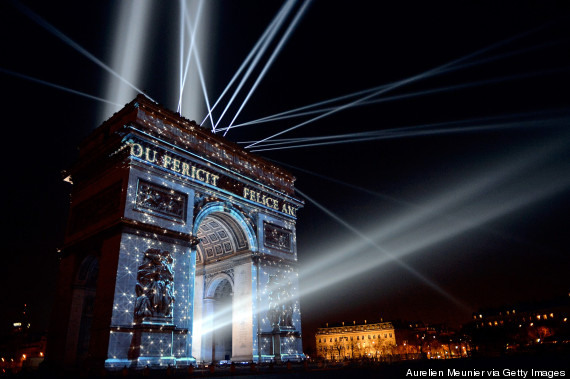 The Arc de Triomphe during the New Year's Celebration on the Champs-Elysees on December 31, 2014 in Paris, France. (Photo by Aurelien Meunier/WireImage)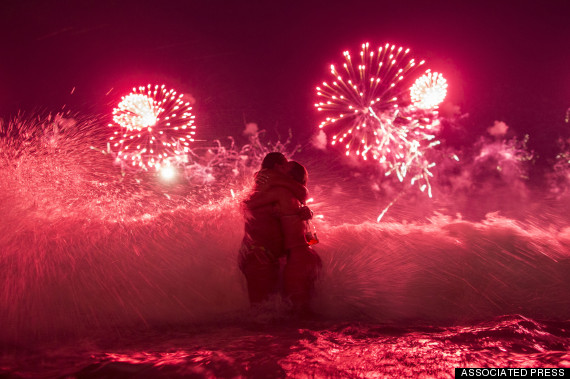 A wave crashes on two girls hugging as they usher in the new year, while fireworks explode over Copacabana beach, during New Year celebrations in Rio de Janeiro, Brazil, Thursday, Jan. 1, 2015. (Photo: Felipe Dana, AP)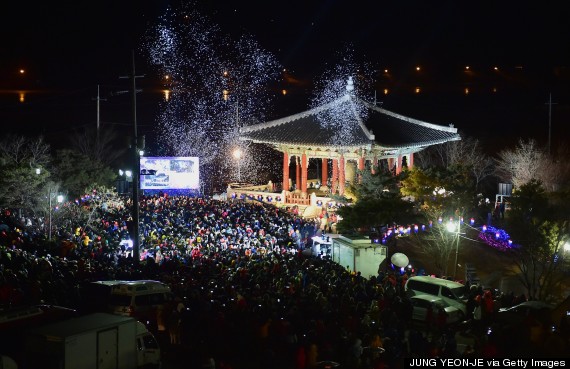 South Koreans gather during the welcoming ceremony of the New Year at Imjingak peace park in the border city of Paju near the Demilitarized zone dividing the two Koreas on January 1, 2015. (Photo: JUNG YEON-JE/AFP/Getty Images)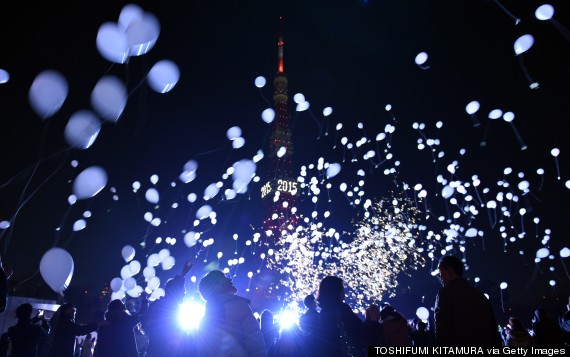 People release balloons to celebrate the New Year during an annual countdown ceremony in Tokyo on January 1, 2015. Some 2,000 guests of the Prince Park Tower Tokyo released the balloons in the air, carrying with their new year wishes. (Photo: TOSHIFUMI KITAMURA/AFP/Getty Images)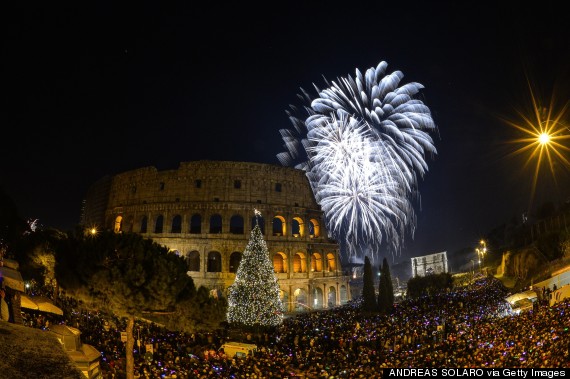 People cheer in front of Rome's ancient Colosseum as fireworks explode to celebrate the new year on January 1, 2015. AFP PHOTO / ANDREAS SOLARO (Photo credit should read ANDREAS SOLARO/AFP/Getty Images)Fireworks light up the sky as Filipinos welcome the New Year Thursday, Jan.1, 2015 in Manila, Philippines.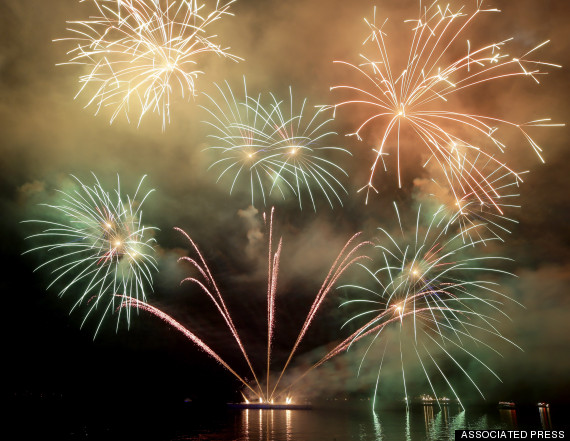 Traditionally Filipinos welcome the New Year with firecrackers, fireworks and almost anything to make the loudest noise possible. (Photo: Bullit Marquez, AP)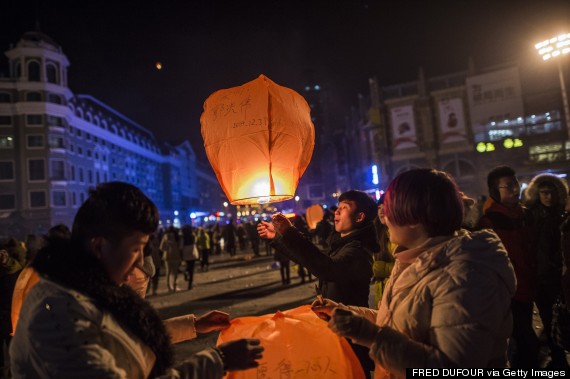 People release sky lantern to celebrate the New Year in Harbin, on January 1, 2015. Over one million visitors are expected to attend the spectacular Harbin Ice Festival, where buildings of ice are bathed in ethereal lights and international ice sculptors compete for honours. (Photo: FRED DUFOUR/AFP/Getty Images)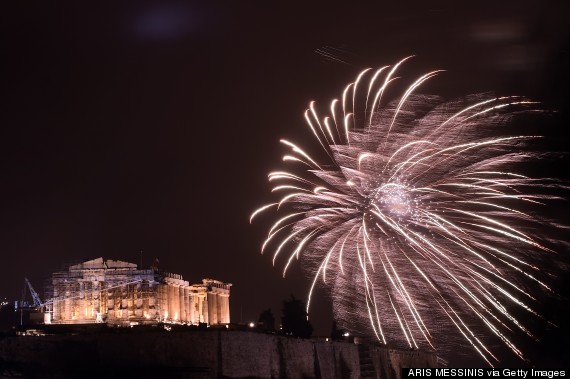 Fireworks explode above the ancient temple of Parthenon atop the Acropolis hill during the New Year celebrations in Athens on January 1, 2015. (Photo: ARIS MESSINIS/AFP/Getty Images)